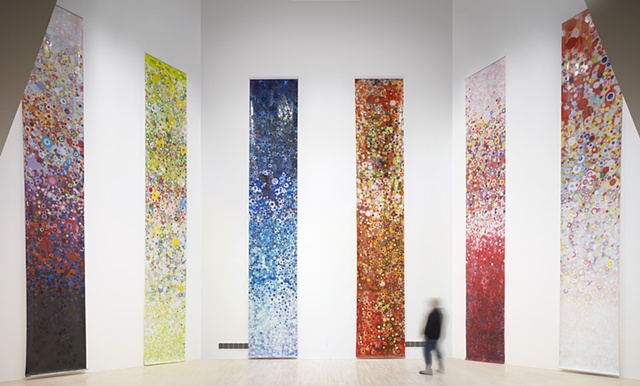 Ani Hoover: Up Down Around
ink, acrylic and spray paint on Yupo paper
each work 5' X 30', overall around 45' X 30'
2009
Ani Hoover: Up Down Around


The installation Up Down Around, features a series of six overtly vertical paintings. The titles of the paintings, Beginning, Early, Immerse, Aware, Occupy and Hush all elude to this physical and emotional journey. Each paintings is created on a synthetic paper called Yupo using ink, spray-paint and acrylic which she applied in a kinetic and intuitive manner.
The paintings are each 30 feet tall making it virtually impossible to view the entire paintings in one glance. To create the oversized paintings Hoover would roll and unroll sections of the paper into a more modest 10-12 foot working section. Unrolling the next section Hoover would often be surprised by the color temperament of the newly uncovered section.
Hoover began these painting thinking about cycles of the natural world. Whether they be change in season, transitions from day to night, shifts in mood or even the process of aging. This impetus is reflected in the quality of shifting that remains in each of these six paintings. The movement of these sensuous color droplets engages the viewer to look up, down, and around to take in the drama of this painting installation.